Visiting the USA or Traveling outside America? Review & Buy
Visitor Health Insurance
Travel Medical Insurance
Visitor Health Insurance coverage for visitors to the USA & Travel Medical Insurance protection for travelers outside America.
Diplomat Visitor Medical Insurance plan benefits for friends and family such as relatives, in-laws, parents visiting USA, or for business travel abroad.
Quote, review visitors insurance coverage, and securely buy policy instantly online!
Trusted & Dependable
Diplomat America Insurance
Diplomat Series Insurance plans offer broad range of visitor health and travel medical benefits when visiting the USA or traveling beyond home country borders, or living worldwide, suits diverse coverage needs – visitors, tourists, travelers, students, missionaries, expatriates.
Coverage Advice
Check eligibility & requirements, find doctors/hospitals.
Compare Plans
Review benefits, exclusions, & summary of coverage.

Select Choice
Select the best plan to meet your coverage needs & fit budget.

Policy Support
Quote & purchase, renew term, policy usage & claims help.
Short-term Visitors to the USA or Long-Term Travelers Outside Home Country?
Diplomat America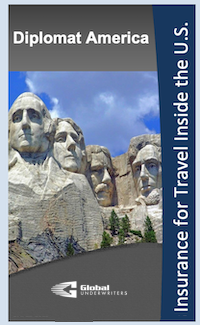 Top Visitor Health Insurance USA

 → 

COVID-19
Foreign nationals visiting the USA
Suitable for tourist visitors to America
Individual & family sickness/injury plan
From 15 days minimum up to max.  of 1 year
Not Renewable coverage, buy for exact dates
Acute-onset of pre-conditions existing
No PPO network, visit any doctor or hospital
Quote & purchase online single trip policy
Each member covered: $50K to $1 million
Choose policy deductible: $0 to $2,500
Choose AD&D benefit: $25K to $1 million
Child alone plan purchase allowed
Optional rider for hazardous athletic sports
More Info
Diplomat America Insurance or just Diplomat America is a visitor health insurance for non-U.S. citizens visiting the USA. The Diplomat America policy provides up to $500,000 in coverage for foreign nationals visiting the United States. Diplomat America visitor medical plan provides medical protection with accident and sickness health coverage with many other benefits included such as travel assistance, accidental death and dismemberment benefit, medical evacuation, emergency reunion, and more. Diplomat America coverage can be provided for as little as fifteen days, or up to a full year, and the visitor medical plan is not renewable.
Diplomat Long Term
Best Coverage Outside Home Country

→

 COVID-19 
Both visitor to USA & travelers outside US
Long term international traveler medical
Minimum 3 months purchase required
Renew to extend policy up to 3 years
Maximum limits up to $1,000,000 USD
Ages 70-79 yrs. get $100K USD max.
Ages 80+ years get $20K USD max.
Deductible choices: $0 to $5000 USD
Summary of benefits in plan brochure
Athletic Sports & Hazardous Activity rider
Add-on optional War Risk rider to policy
Home Country Coverage rider on return
Expat US citizens visiting USA can buy
More Info
Diplomat Long Term Insurance, or just Diplomat LT, is a long term international health insurance policy is specifically designed for expatriates and individuals living/traveling outside their home country for undetermined or extended periods of time. Coverage under the Diplomat LT is suitable for new immigrants and can purchased from 3 months up to a year, and is renewable up to 3 years maximum duration, and the plan is renewable. Diplomat Long-Term policy offers instant coverage without any medical check-ups or proof of medical records, features include medical and hospital coverage, accidental death protection, medical evacuation, lost baggage, and more. The flexibility and renewability of the Diplomat Long Term plan makes it ideal for business and leisure travelers, expatriates, study abroad, work study programs, international exchange students, tourists, and church or missionary travelers.
International Travelers Outside America or Cheap Accident & Evacuation Benefits Only?
Diplomat International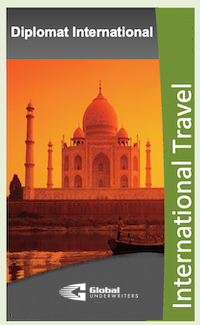 Travel Medical Coverage Outside USA

 →
Travel outside America & home country
For US citizens traveling abroad
For foreign nationals outside America
Meets EU Schengen visa requirements
Church, family, or business travel
From 5 days up to maximum of 1 year
Coverage not renewable or extendable
Acute-onset of pre-conditions existing
Quote & buy a single trip visitor policy
Choose group deductible: $0 – $2,500
Choice of max from $50K to $1 million
Easy application, instant ID cards/proof
Cancel policy prior to start for refund
More Info
Diplomat International Insurance provides travel medical insurance for U.S. citizens traveling outside America, or foreign nationals traveling outside their home country excluding coverage for the United States. Diplomat International plan offers policy maximums of up to $1,000,000, and includes features such as accidental death, medical evacuation, emergency dental, lost baggage, trip interruption, repatriation of remains, and more. Diplomat Intl. travel health insurance plan protects against unforeseen medical conditions that arise during their stay outside America, and coverage is provided from fifteen days to a full year, and the plan is not renewable.
Diplomat GAPP
Low Cost Accident & Evacuation Coverage

 →
Budget global protection at low cost
No Medical benefits for Sickness/Injury
Offers benefits up to $1 Million
Accidental Death & Dismemberment
Emergency Medical Evacuation (MedEvac)
Pays for Paralysis, Coma, or Loss of Life
Emergency Reunion & Repatriation
Just 1 day minimum purchase required
Renew to extend policy up to 24 months
Maximum limits: $25K, $50K or $100K
Deductible (every visit): $0, $50, or $100
Plan summary of benefits description
Suitable addition for J1/J2  visa holders
Coverage supplement for intl. students
More Info
Diplomat GAPP Insurance, or Diplomat Global Accident Protection Plan, is a low-cost accident and evacuation benefit plan for anyone who is traveling across national borders. Diplomat Global Accident Protection Plan (GAPP) provides Accidental Death and Dismemberment (AD&D) Benefits and optional Medical Evacuation Benefits to those traveling outside their home country. The minimum coverage duration is 1 day, and maximum purchase period is 365 days (1 year). Quote and buy Diplomat GAPP Insurance providing cheap and affordable AD&D and medical evacuation benefits. However the plan offers no health benefits or medical coverage for sickness or injury. The GAPP plan is suitable for international students supplementing evacuation coverage for US J1 or J2 visa requirements.
Not sure which is the right policy to pick with the features and benefits your want, to best suit your coverage needs, and still stay within your budget?
A licensed insurance agent can advise & help guide you!
Diplomat America Visitor Insurance
Diplomat Travel Series and other visitor insurance or visitor medical insurance plans listed on DiplomatAmericaInsurance.net are underwritten and administered by:
More Info
Diplomat Visitor Health Insurance
Diplomat Travel Medical Insurance or Diplomat Travel Insurance is designed for non-U.S. citizens traveling to USA or for foreign nationals who are citizens of India, China, Russia, Brazil, Mexico, and other overseas nations and who are new immigrants in America. Diplomat travel insurance is offered as various types of coverage which protects you from major and minor medical emergencies, accidents and illnesses during your travel as a visitor to USA or as a new immigrant also.
Diplomat Travel Medical Insurance
Diplomat Travel Health Insurance provides visitor medical insurance coverage to non-US citizens of any nation when visiting the United States as a short-term visitor or a new immigrant for a longer term stay. Diplomat America Insurance Reviews shows that it is ideal for visitors to the United States as well as permanent residents on a Green Card during their stay in America. The Diplomat Travel Insurance plans are underwritten by top rated Underwriters, with the carrier offering generous benefits for tourists and parents visiting or immigrating to the United States. Diplomat Travel Medical Insurance is renewable and offers best medical benefits. Covered benefits include during health emergencies such as emergency room charges, accident injury, illness or sickness, doctor/lab charges, prescription drugs, travel assistance, and accidental death and dismemberment, repatriation of mortal remains, medical evacuation benefits, and more. The Diplomat Travel Insurance also offers emergency dental coverage, medical reunion, interruption of trip, and travel assistance services help.
Diplomat Travel Insurance plans are administered by Global Underwriters Insurance which offers exceptional and affordable international travel medical insurance coverage for groups and individuals traveling outside home country. If you a business traveler or an individual or family on a vacation holiday, or a new immigrant residing in a foreign country, Global Underwriters has a plan designed just for you that is backed by A.M. Best Rated "A+ Superior" insurance companies.
Plan Underwriters
Diplomat Series visitor medical insurance and visitor health insurance plans are well backed financially as visitor insurance policy risks are underwritten by below highly rated carriers in the travel & visitors insurance industry segment.
Diplomat America, Diplomat Long Term and Diplomat GAPP plans are underwritten by Allied World Assurance Company (Europe) dac., rated "A" (excellent) by A.M. Best.
Diplomat International policy is underwritten by Brit Syndicates Limited on behalf of Syndicate 2987 at Lloyd's of London, the oldest underwriter in the world, also rated "A" (excellent) by A.M. Best.
Plan Administrator

Plan administration and visitor claims handling for Diplomat America Insurance coverage and all the visitor insurance policies listed is by USA-based Global Underwriters, a specialty plan administrator with many decades of experience in designing and managing travel medical insurance, visitor health insurance and visitor medical insurance, visitor coverage products.